MSI RTX 3070 Ti
One of the latest additions to the RTX lineup is the MSI GeForce RTX 3070 Ti which is designed to provide gamers with an ultra-high-resolution gaming experience. The main specialty of this graphics card is that it has a huge heatsink & special cooling features for better gaming performance.
This high-end graphics card offers gamers the ability to create and play at ultra-high resolutions, which helps them experience the most realistic, visually stunning gaming experiences.
MSI launched the Geforce RTX 30 series to give gamers the latest gaming experience while keeping power consumption as low as possible.
NVIDIA is trying to regain its crown as the best graphics card manufacturer by launching the RTX line of GPUs. The NVIDIA RTX series is aimed at taking the market by storm, and they're doing a pretty good job of it.
This GPU features 8GB GDDR6X memory and a powerful Nvidia Geforce chip which allows it to run almost every game on the market at ultra settings with great performance and amazing visual quality.
The MSI Geforce RTX 3070 Ti is a game-changing graphics card for NVIDIA gamers. And it also supports ray-tracing technology– giving users a whole new level of detail and realism in their games.
Ray Tracing Technology— What is it?
You may have heard some buzz around the RTX brand, but what is it exactly and why should you care? First off, let me explain what the acronym stands for. The word 'RTX' means 'Ray Tracing'. Ray tracing is the real-time rendering of objects in a virtual world. It works by rendering the objects that you see in your video game.
However, ray tracing goes one step further than just rendering. As the name suggests, it allows you to calculate and trace the path of every single photon (particle of light) in your video game. By simulating all the photons (light particles), the computer is able to calculate the color and intensity of each pixel on the screen.
So you can now render a 3D scene in real-time, using only a 2D image – without any intermediate 3D geometry or texture maps, which is something that we take for granted today. In other words, ray tracing gives you better image quality, while being faster than traditional rendering techniques.
Overview of MSI RTX 3070 Ti
The MSI RTX 3070 Ti is a high-quality built GPU that comes with NVIDIA Ampere Architecture technology. A brushed metal backplate provides a clean visual finish to the card. It also strengthens the card and thanks to some cleverly placed thermal pads that even help to keep the temperature low.
The cooling features of this GPU are really incredible. It has the MSI TORX Fan 3.0 that creates high static pressure and pushes the limits of the thermal performance. This TORX Fan 3.0 produces 50% more air pressure than a normal fan and 15% more than TORX Fan 2.0.
Another featuring cooling technology of GPU is Zero Frozr. Zero Frozr is like the calm before storm. The fans completely stop when the GPU temperature is low to eliminate the mechanical noise of the fans. It starts to turn again automatically when the GPU heat increases during gaming.
The precision-machined heat pipes ensure max contact over the GPU and spread heat along the full length of the heatsink for optimal cooling. The thermal pads allow board components to transfer heat directly to the heatsink for additional cooling.
Detail specifications of MSI Geforce RTX 3070 Ti
MSI RTX 3070 Ti— General Information
| | |
| --- | --- |
| Brand | MSI |
| Chipset | NVIDIA GeForce |
| Chipset Model | NVIDIA GeForce RTX 3070 Ti |
| Model | MSI GeForce RTX 3070 Ti VENTUS 3X 8G OC |
| Country of Origin | Taiwan |
---
Technical Information
| | |
| --- | --- |
| Interface | PCI Express Gen 4 |
| Core Clocks | Boost: 1800 MHz |
| CUDA Core / Stream Processors | 6144 Units |
| Memory | 8 GB |
| Memory Speed | 19 Gbps |
| Memory Bus | 256-bit |
| Memory Type | GDDR6X |
| DirectX Version Support | 12 API |
| OpenGL Version Support | 4.6 |
| HDCP Support | Yes |
---
Display & Resolution
| | |
| --- | --- |
| Digital Maximum Resolution | 7680 x 4320 |
| Maximum Display | 4 |
---
Ports
| | |
| --- | --- |
| Display Port | 3 (v1.4a) |
| HDMI | 1 (Supports 4K@120Hz as specified in HDMI 2.1) |
---
Power
| | |
| --- | --- |
| Power Consumption | 290W |
| Recommended PSU | 750W |
| Power Connectors | 8-Pin x 2 |
---
Physical Description
| | |
| --- | --- |
| Card Dimension | 305 x 120 x 57 (mm) |
| Weight (Card/Package) | 1160g/ 1735g |
---
Features
| | |
| --- | --- |
| Display Port | v1.4a |
| HDMI | v2.1 |
| RTX Architecture | Ampere- 2nd Gen RT (Ray Tracing) Cores, 3rd Gen Tensor Cores, New SM (Streaming Multiprocessors) |
| VR Ready | Yes |
| G-Sync Technology | Yes |
| Adaptive Vertical Sync | Yes |
| Cooling Fan | Triple with Huge Heatsink |
| Cooling Features | TORX Fan 3.0, Zero Frozr, Core Pipe & Thermal Padding |
Credit: MSI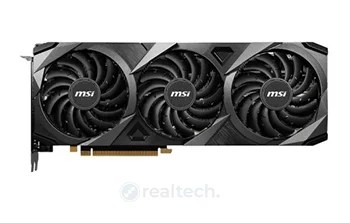 RTX 3070 Ti vs RTX 3090 Ti
Now let's compare this RTX 3070 Ti GPU. What is the difference between RTX 3070 Ti and the latest RTX 3090 Ti?
The RTX 3070 and RTX 3090 series are the top-of-the-line graphics cards available right now. They are both powerful beasts, but they are quite different from one another in terms of what they can do for you. If you want to play some VR games, the RTX 3090 Ti will blow your mind. If you're looking for a PC to game on, the RTX 3070 Ti will more than suffice.
The RTX 3070 Ti is a high-end GPU that supports 1440p resolution when using a high refresh rate monitor. But this isn't an extreme/premium-class GPU. On the other hand, RTX 3090 Ti is a premium-class GPU that is ready for 4K gaming and it also supports AI technology.
When it comes to power consumption, the RTX 3070 Ti is the winner here. The MSI RTX 3070 Ti takes 290W of power while the RTX 3090 Ti takes 450W of power.
Conclusion
In conclusion, the MSI RTX 3070 Ti 8GB is an excellent high-end-level gaming card for 1080p gaming. The RTX 3070 Ti is an outstanding value, providing performance in many games similar to the higher-end 3080 Ti. The RTX 3070 Ti is a fantastic high-end GPU card for gamers looking for great gaming performance.
You can expect a huge jump in performance, especially when using ray-tracing features, and the RTX technology can be used on any RTX GPU.
If you're looking for a graphics card that will provide top-notch performance at an affordable price, then you should seriously consider the MSI GeForce RTX 3070 Ti.
MSI has been a pioneer in the graphics card industry for decades. Its products are top-of-the-line and well-known for being high-end GPUs, especially for those who love overclocking and gaming. Although, this isn't the only RTX series on the market and has the same specifications. But the performance is vastly different, and that is why you should choose the MSI Geforce RTX 3070 Ti to get the best graphics card for gaming at a lower price.
If you are looking for a gaming laptop, check out our article here.